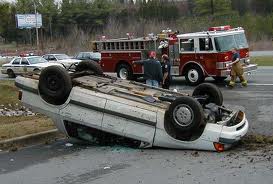 Consalveste Bazile, 31, of Roslindale, was arrested earlier this week on Massachusetts Drunk Driving Charges after her allegedly illegally changed lanes and struck a car on Route 24. He was formally charged with Operating Under the Influence of Alcohol and Reckless Driving.
According to the Massachusetts State Police, Bazile allegedly changed lanes at Exit 19 on Route 24, causing another car to go off the road. That car, driven by Jazqueline Price, 23 of Brockton, rolled over and ended up in the brush on the side of the road. She was taken to a local hospital and treated for minor injuries.
It has not been reported what prompted the Massachusetts State Police to charge Consalveste Bazile with DUI Charges. There is no indication, aside from a marked lanes violation, that his operation of the car suggested that his ability to drive the car was impaired by alcohol; and it's not clear whether he submitted to any Field Sobriety Tests and/or to a Breathalyzer Test.
Notably, Exit 19 appears to be an area where there has been an abundance of accidents in recent years. In 2008, the most recent year for which accident data is available in that area, there were 51 accidents at that location. Consequently, if this case goes to trial, data suggesting the unsafe nature of the exit could come in to play in Bazile's defense.
Boston Criminal Defense Attorney Lefteris K. Travayiakis available 24/7 for consultation on all Massachusetts DUI / OUI Crimes, including Operating Under the Influence of Alcohol or Drugs and Reckless Driving.
To schedule a Free Consultation, Click Here to Contact a Massachusetts Drunk Driving Lawyer or call 617-325-9500.