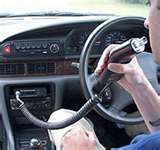 The Massachusetts State Legislature is currently considering a proposed bill that would impose stiffer penalties for Drunk Driving Law Violations.
The bill proposed by State Senator Robert Hedlund would effectively make mandatory the installation of an interlock device for anyone convicted of Operating Under the Influence of Alcohol, even for first-time offenders.
As they stand today, current OUI / DUI Laws only only require the installation of an interlock device on a person's vehicle for a Second Offense OUI / DUI, which also imposes a sentence of not less than 60 days in jail and up to 2.5 years, as well as a loss of license for a 2 year period.