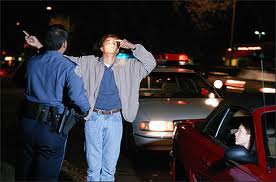 Timothy M. Brennick, 48, of South Boston, was arrested on Massachusetts DUI Charges in earlier this week after leaving a Gloucester bar with his girlfriend.
He was formally charged with Operating Under the Influence of Alcohol.
Brennick and his girlfriend, Jannifer L. Paquette, 40, were reportedly in the House of Mitch bar in Gloucester Tuesday evening. After leaving the bar at 10:30, the bartender reportedly called the police to report that the two just left the bar intoxicated, got into a car and drove off.
Gloucester Police officers pulled over the car driven by Brennick on suspicion of violating Massachusetts DUI / OUI Laws, who then allegedly admitted to having two beers. Brennick reportedly submitted to several Field Sobriety Tests, which the police officers claimed, as is always the case, that he failed.
Despite that the bartender may have called the police and made his report, there still must be some indication that Brennick was 'under the influence' of alcohol to a degree that affected his ability to safely operate his car. Many factors in DUI cases can establish or negate whether the person was under the influence, including speeding, marked lanes violations, failure to yield or stop at lights, and countless other motor vehicle infractions.
What Does It Mean to be 'Under the Influence'?
Under Massachusetts Drunk Driving Laws, a person doesn't need to be drunk to be considered 'under the influence.' Rather, a person is deemed to be 'under the influence' of alcohol if he has consumed enough alcohol to reduce his ability to operate a motor vehicle safely, by decreasing his alertness, judgment and ability to respond promptly.
In this regard, in OUI prosecutions in Massachusetts, the prosecutor is not required to prove that the person actually drove in an unsafe or erratic manner, but rather, the prosecutor is required to prove that his ability to drive safely was diminished by alcohol.
Boston Drunk Driving Lawyer Lefteris K. Travayiakis is available 24/7 for consultation on all Massachusetts OUI / DUI Crimes.
To schedule a Free Consultation, Click Here to Contact a Boston DUI Lawyer or call 617-325-9500.